We are finally in the tomato harvest season and holy cow, we have a lot of tomatoes. We are going to be working full time to get these preserved in the coming weeks. One benefit of having a Sun Oven is the ability to utilize it as a dehydrator when our Excalibur is occupied.
The dried tomatoes come out a little different than ones dried in the Excalibur, maybe its the exposure to the sun that makes them a little less "crispy". I'm thinking I'll be putting these little delicacies in some olive oil with fresh basil and garlic, the ones I'm getting from the dehydrator will be great as soup and stew add-ins or making into tomato powder for seasoning blends.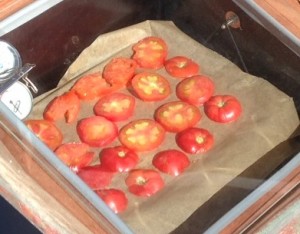 So how do you use the Sun Oven to dry your tomatoes? Pretty simply. One of the keys to success (my first batch burned so pay attention to this tip) keep the door slightly ajar AND don't adjust it for direct sun exposure. That oven gets hot and will scorch the tomatoes. you will need the dehydrating and baking rack set (if you bought the preparedness set then you'll already have them), parchment paper, and obviously, sliced tomatoes. I suggest not cutting them too thin for better results.
Lay the tomatoes onto the parchment paper making sure they don't overlap, stack the three trays you've loaded with tomatoes onto the balancing tray that comes with the Sun Oven. Prop the lid of the Sun Oven onto one of the locking pieces and adjust it so it is not directly in the sun, but can heat up. Continue adjusting as needed to keep it around 170-200 degrees. As you see the tomatoes drying out, you can turn the tomatoes over.
The next time I do this I will be using roma tomatoes and simply cutting them lengthwise into half and keeping the oven around 200 degrees, turning every few hours (and obviously closing shop up at night) for a true "sun dried tomato" result that I would find in a grocery store. But the ones I sliced and dried in the Sun Oven turned out great! I already snacked on several of them.
Below you'll find a how-to video by Paul Munsen, the President of Sun Oven International, showing your precisely how to achieve perfect results!

If you step out and use the Sun Oven to dehydrate some veggies or tomatoes, let me know by commenting below! I'd love to hear your results.
*If you follow the link for Sun Oven here, you will receive a $75 discount off the Preparedness package or a $50 discount off just the Sun Oven.
Subscribe to our blog RSS feed and get updates whenever we post something new.