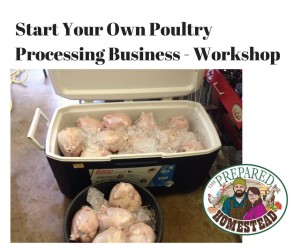 Who is this workshop for?
Those interested in learning how to humanely, cleanly and efficiently process poultry. And those who are looking for a small business opportunity.
We started out processing our own poultry and in an effort to help us pay for the equipment we started taking on a few other people's birds. In no time at all, we were able to stay busy processing as many birds as we wanted within our model.
What will you learn?
How to humanely, cleanly and efficiently process poultry (hands on practicum)
How to run a poultry processing line
Learn all the costs involved with processing
Learn the rules and regulations of processing in Idaho
Marketing, pricing and keeping happy customers
Cost? $49 per person
When? Based on the majority interest we came up with two dates: July 1st and July 29th. The workshops begin at 10 AM.
Where? Cocolalla, at The Prepared Homestead. We will provide directions after you register.
Bring a sack lunch!
How do I sign up?
Click on the link below to pay for a class seat.
Comment in the facebook group: The Prepared Homestead – Workshops and Classes on the pinned post with your date. Please keep in mind that we need a minimum of 4 students and a maximum of 10 per class date. First come, first served.