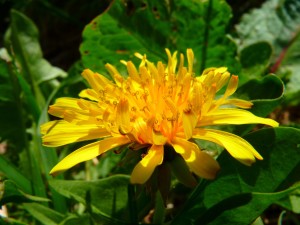 Dandelions Medicinal Uses
Latin name:Taraxacum officinalis
Family: Asteraceae
About:
         Dandelion is a survivor.  You will find it in cracks in the sidewalk, meadows, overgrazed pastures, lawns, gardens, and anywhere the wind blows. Herbalists consider this humble plant valuable medicine. Introduced to the New World by European settlers as a source of food and medicine, it made its way across the continent. Dandelion was a very common potherb in Europe and dandelions medicinal uses are abundant. Being one of the first plants to appear in the spring it provided them with the leafy greens they had been deprived of over winter. It is highly nourishing and full of vitamins. It also supplies an early flower giving pollinators food before many other flowers bloom.
Description:
The name dandelion is derived from Old French, Dent-de-lion, translating as "tooth of a lion" or "lion's teeth" This makes sense when you look at the appearance of the dandelion leaves with their deeply serrated edges. The leaves form a basal rosette; have hollow, latex filled, stems shoot up from the center accommodating a single flower made up of of many individual florets. The root runs deep which allows it to pull minerals and other nutrients from deep in the soil into its leaves. Cat's Ear (hypochaeris radicata) is a look-alike, the major differences:  cat's ear has fine hair on both sides of its leaves while dandelion is smooth, the stems of Cat's Ear are not hollow, but are wiry, solid, and stiff, and usually grows several flower heads rather than the characteristic single flower of the dandelion.
Wildcrafting Guidelines
Be careful what location you choose as many areas can contain toxins. Remember the deep root of the dandelion draws from deep in the soil, this would include toxins. If you have it growing in your lawn or garden it is perfectly safe as long as you haven't sprayed with herbicides!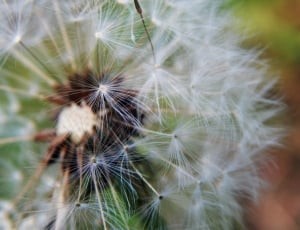 Storage: Use leaf fresh or dry and store in air tight jar. Roughly chop the root and dry completely. Store in airtight jar.

Parts Used:
Entire plant – roots, leaves, stem, flower, seeds, and sap
Taste: 
Leaf: Bitter & Salty        Root: Bitter & Sweet
Actions:
Leaf: Anti-inflammatory, Choleretic, Digestive Stimulant, Diuretic, Nutritive
Root: Alterative, Antirheumatic, Bitter, Choleretic, Cholagogue, Depurative, Tonic
Medicinal Uses:
Leaf: Long used as a spring tonic. It is one of the first greens to show up in the spring, with its bitter taste it stimulates digestion and gets the juices flowing! The leaves contain a prebiotic called inulin which helps improve your gut flora by feeding your gut bacteria. Dandelion leaf is also a very effective diuretic, stimulating the kidneys, which can help in cases of edema (swelling) and would be comparable to a potassium sparing diuretic due to its high potassium content..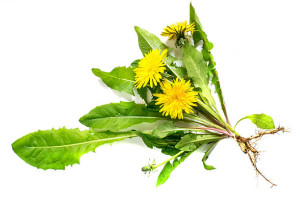 Root: Dandelion is most well known as an herb for the liver. It's easy to underestimate the important role the liver plays in our body; but a stagnant liver leads to symptoms like acne, PMS, boils, nausea, depression and irritability. This is where the alterative nature of dandelion comes in – with improvement of the liver you will see these symptoms disappear over time. Like the leaf, dandelion root contains inulin and is particularly high from roots harvested in the fall.
Stem Latex: The white, milky sap found in the hollow ste is particularly useful when dealing with warts. Apply consistently, over time.
Culinary Uses:
         Leaf:  The very early leaves are the least bitter. As dandelion grows and especially after it flowers the leaves get more bitter. If you choose to use them after flowering, cook them like you would kale or spinach. Fresh, early season leaves are great in salads, sandwiches, smoothies, and pesto.
Root: My favorite way to consume dandelion root is by making it into a "coffee". Simply dry the roots, chop them up then roast them in an oven until they are dark. Grind these in a coffee grinder and prepare coffee like you normally would. You can purchase roasted dandelion root which is what I do since I drink it everyday and there's no way I can harvest enough to get me through the rest of the year.
         Flowers: Flowers are so bright and cheery and make a wonderful addition to a salad. However, our favorite way to eat them in our home is cooked up as a fritter. A little flour, egg, salt, and hot oil turns them into delicious little "gems" that everyone enjoys. I have also made dandelion wine, cookies, and jelly using the petals.
         Buds:  The small, tight buds that you find deep down still hiding amongst the leaves in early spring can be pickled up and used as a caper replacement in any recipe. You'll be surprised at how similar they are in taste and texture. Here's a really easy recipe to follow to make fermented buds which will taste similar to capers. For a sweeter version you can try this recipe.
Preparations:
Tea (leaf)
Decoction (root)
Tincture (leaf/root)
Cuisine
When dandelions are growing on our homestead I will be doing a few videos for our member site on the preparations I discussed above and more (capers, dandelion brownies, fritters), join our membership to receive this as well as several other valuable content we offer.
Herbal Apprenticeship
Do you live in the Inland Northwest region and would like to have a more hands-on herbal experience? Check out my herbal apprenticeship open to 5 students which will include growing and harvesting herbs, wildcrafting, making herbal preparations and using herbs in recipes, talking about herbs and enjoying fellowship with other people interested in herbs!