Uses of Viola tricolor
Come June my herbal garden will begin to be spotted with delicate, tri-colored blossoms commonly known as Johnny Jump Ups or Wild Pansy . They are one of my favorite, wild-growing flowers in my herb garden. This last couple of years I have watched as their numbers happily multiply giving me valuable medicine and nutritious food without any effort on my part! There are numerous uses of Viola tricolor.
Viola tricolor, glabella, & odorata are the most common violets that are found growing the US. Please understand that the African Violet is NOT a member of the violaceae family and is not to be eaten or used as medicine.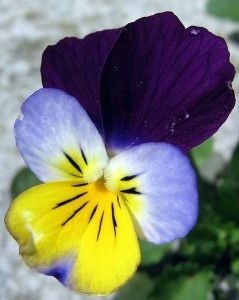 Family: Violaceae
Part used:  Aerial (roots can be eaten in very small amounts)
Energetics: Cooling & Moistening so it is great for a hot, dry conditions
Medical actions:  Anti-inflammatory, expectorant,  capillary tonic, diuretic
Edibility and Culinary Use
Violas contain vitamins C & A & antioxidants.
The entire wild violet plant is edible however the roots, when eaten in large quantities, can cause vomiting so don't go too crazy with them.
Leaves and flowers can be eaten raw or cooked. I love eating the flowers and leaves as I walk through my garden, they have a very mild taste unlike dandelion (bitter) or wood sorrel (sour).  They also make a beautiful and nutritious addition to a salad or sandwich. When the leaves are added to a soup they can help thicken it similar to what okra does, due to its mucilaginous quality.
Topically
Great for cradle cap, diaper rash, eczema, boils, acne  & itchy skin. You can apply it using a compress, balm, skin wash, lotion, bath soak, or salve.
Internally
Cold/Flu: Hot, inflamed throat and irritated upper respiratory tract. It has also been found to have anti-microbial activity when taken as an infusion or tincture.
Capillary Tonic: Helps strengthen capillary walls
Lymph Support: Works well both as an external compress and internally as a lymph mover. Apply poultice or compress to enlarged lymph or drink as an infusion to get things moving again.
Traditional Uses Included: Asthma and epilepsy
Pharmacological Constituents
Saponins and mucilage which are demulcent, especially in the upper respiratory tract.
Flavonoids which are anti-inflammatory and help strengthen capillaries and small vessels.
Salicylates are anti-inflammatory
There are no known contraindications, but because they contain salicylates it may increase the action of NSAIDs.
Ingredients
Instructions
Combine the Epsom salt and viola petals in a food processor.
Blend until the flowers are completely incorporated.
Spread the viola salt in a thin layer on a sheet of wax paper and allow to dry for 2 days or put in an excalibur dehydrator to speed up the process. Keep it at a the temperature setting for herbs.
Thoroughly combine the viola-infused epsom salt with the Dead Sea salt.
Store in a glass jar with tight lid for up for no more than a month - you can still use it after that but the smell will be dramatically reduced.
To use: Add 1/2 cup to your warm bath
http://www.thepreparedhomestead.org/2018/03/21/uses-of-viola-tricolor/