How much to plant per person in the garden. I think this is a question all homesteaders and vegetable gardeners deal with every year. Children grow bigger and eat more or they move out so you have one less mouth to feed, your eating habits change, someone suddenly has a favorite fruit or vegetable, the varieties of change are really endless. So how do you determine how much to plant? Waste is just as bad as lack, but finding that sweet spot can be tough!
Seed catalogs are in!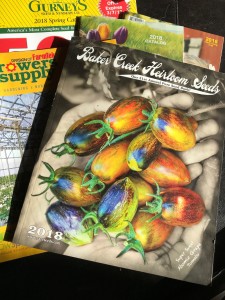 Near the end of winter we begin receiving seed catalogs which got our minds moving toward spring, summer and our eventual harvest. I don't know about you, but coming out of a long winter of eating preserved foods or buying vegetables at the market, makes it difficult to control myself when I see all the beautiful photos of green herbs, fruiting bushes, and ripe vegetables.  I suddenly think we'll eat a watermelon a day. Cucumbers in every preparation. Kale can be eaten for breakfast, lunch and dinner, right? I seriously have to reign myself in and be reasonable.

I try to maintain focus on one of our primary, and quite lofty goals: getting 80% of our caloric needs from our property. This goal means year-around, not just through the growing season. So when we decide what to grow and how much, we need to take fresh-eating as well as preserving into account. BTW, we haven't reached our goal yet, but we are sitting at a solid 55% right now which is pretty amazing, if I do say so myself
With that goal in mind, we ask ourselves again, how much to plant per person in the garden.
Family Meeting – How much to grow per person in the garden
One of the many things Sean is an expert at is planning. So a few weeks ago he put our first gardening family meeting on the calendar. Before the meeting he wanted us to go through catalogs and think about what we wanted to grow this year and what garden it would be best in: herb garden, food forest, annual/perennial, or our hoop house. Discussing things will help bring them into perspective. Plus, it gives everyone a chance to contribute.

At the meeting we covered additional information besides what we'd each like to grow and where:
how much work & time do we want to invest on planting/growing/harvesting
what is the preservation method for a particular plant
is it an annual or perennial (remember, our objective is high perennial)
how many days to germination & harvest
do we need to start it inside or direct sow
what are its sun/water requirements
will we plant this as part of succession or relay succession plan
These questions are important to know, particularly in North Idaho where our growing season is shorter.
Succession and Relay Succession Planting
Let's talk about succession and relay succession planting which are great ways to increase yield when you are estimating how much to plant per person in the garden. Easy concepts and very useful in a garden of any size. Succession planting works great for people with smaller gardening areas. It is also good for keeping soil healthy and reducing pests if you plant your crop rotation well. For our climate, succession planting means planting a short season cool crop in the spring. After harvesting, plant a summer crop. After harvest go back and plant another short season cool crop. For example: lettuce in the spring, then tomato starts in the early summer, followed by cabbage in the fall.
Relay succession is a little bit different.  These are plants that usually come into harvest at the same time and you don't want to be stuck with too much to eat or preserve all at once. Relay succession also allows for a longer harvest season. The one thing we have to keep in mind when using this method is how many days to harvest. It would be wonderful if we could do tomatoes in a relay succession, but in our climate our tomatoes need every possible growing day. But plants such as lettuces, kales, spinach, radishes, carrots, and beets naturally lend themselves to relay succession planting.
How do we know how much to grow of each?
There are a lot of calculators out there that will give you an estimated number of plants you'll need for your size family when estimating how much to plant per person in the garden. For instance, this chart at Vegetable Garden Planner gives you an approximate number of plants per person for many vegetables. Then there's this interactive tool which is fun to work with and will lay things out for you specifically. However, over the last several years we have learned to approximate the number of plants we want to grow of each kind. I think these calculators are great jumping off points, but you need to experiment and learn a little bit in order to estimate well.
What did we decide to grow?
This year I am expanding my herb garden. We've focused on improving the soil over the last couple of years so I'm hoping I'll get better production this year. I really try to stick to self-seeding annuals and perennials because I don't want to have to plant new starts or seeds every year. I will be doing a blog post on the different herbs I chose and the planning/planting process in a couple of months so I won't go into detail here. So when it comes to my herb garden I don't really try to estimate how much to plant per person in the garden, I just grow what I make into medicine and what I like to have on-hand throughout the year.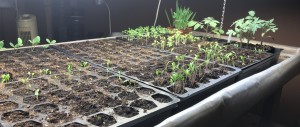 Below I have a list of the seeds/bushes we ordered. Some of these we have already started in trays in our growing room downstairs while others we will direct sow or plant bareroot in our gardens.
Vegetables:
"The Hulk" beans – 58 days to harvest, grow up to 9″ long. 20 plants. Annual/Perennial Garden.
"Purple Queen" Beans. 51 days. 20 plants. Annual/Perennial garden and Hoop House.
"Chipman's Canada Red" Rhubarb.  Perennial. 30 plants. Annual/Perennial Garden.
Tomatoes (I can't think what kind, but we picked several varieties). 20 plants. Hoop House
Red Chili Peppers. 9 plants. Hoop House
"Danvers Half Long" Carrots. Great for storage. 75 days. 40 plants. Annual/Perennial Garden.
"Bolder" Gold Beets. Good germination, growth and flavor. 55 days. 60 plants. Annual/Perennial.
"Perfect Pickle Hybrid" dual use Cucumber. 40 days. 8 plants. Hoop House.
We always grow a variety of kale, spinach, lettuce, & chickweed in our garden boxes and cold frames in the spring and fall
Melons, Berries & Bushes:
Cantaloupe. 75 days. Annual. We will likely plant 6 which should give us around 18-20 cantaloupes. Hoop House
"Orange Krush" Hybrid watermelon. Annual. 78 days. 7 plants. Hoop House.
Manchurian Bush Apricot. Perennial. Ripens in July. Annual/Perennial Garden & possibly food forest
Marionberry. Perennial. Ripens July to mid August. Annual/Perennial Garden
Honeyberries. Perennial. Ripens late May-June (before strawberries). Annual/Perennial Garden & Food Forest.
Chocolate Vine. Perennial. Ripens early Autumn. Herb Garden.
Jostaberry. Perennial. Ripens in July. Food Forest.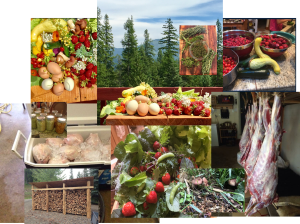 This list is not including the trees Sean ordered to put in this year (over 150), but is a pretty good list of the things we'll be planting in the annual/perennial garden, hoop house, herb garden, and food forest. We will also be dispersing flowers throughout all the gardens and allowing some "weeds" to grow – mullein, dandelion, nettle, and more.
How much to plant per person in the garden
In conclusion, f you look at the resources I shared about estimating how much to plant per person in the garden you will that see we didn't follow the guidelines precisely since we know better now how much we will be preserving and/or fresh-eating than an outside source. But, for a new gardener or someone new to estimating how much you'll need for a year of eating, they are very good starting points.