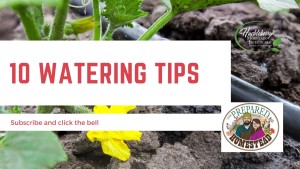 These principles can be applied to any type of garden whether it's a vegetable, herb, flower, orchard, perennial, annual, or anything in between .
Monica's herb garden is just booming this year but haven't had to water it even once (mid June). We've been blessed with extra moisture this year which is great! I want to discuss some tips that have helped us minimize water usage and waste while still getting great production from our gardens.
1. Understand the soil.
The soil in the herb garden has a relatively high water table and that equates to not having to water too early. What is your texture and structure? Texture: ratio of sand, silt, and clay. The more sandy the quicker it will drain, the less moisture is being held by that soil. There are some exceptions to that of course. Conversely, if you have a high clay content, it will hold that water more which could be detrimental depending on what you are trying to grow. Structure: How the soil is held together. You can improve structure but you can't change texture without huge inputs. How can you improve structure? Getting microorganisms kicking, worms, etc. it'll improve the aeration and ability of the soil to hold water.
2. Maintain and ground cover &/or use mulch.
Maintaining the ground cover conserves water by moderating the soil temperature and keeping it shaded. The moisture stays put in the soil rather than evaporate.
3. Understanding the watering needs of your plants and what stages they're in.
Small pots will require more water, starts will require more moisture. Water loving plants will need more water no matter what. Our willow in a one gallon pot needs a lot of water vs. the potatoes and tomatoes which need a very even, moderate watering level.
4. Water infrequently but deeply.
Perennials like trees and shrubs will always prefer deep, infrequent watering ensuring the water gets down to the roots. Annuals will be okay with less deep watering however, we still prefer the deep watering twice a week for even our annuals.
5. Water early in the day and not later in the day.
For the plant cycle and uptake of the water by the plants this is the best watering practice. The second best time is late in the evening.
6. Water from below and not above.
Overhead sprinkler get the moisture on the leaves making the plants more susceptible to disease and fungal issues. Whether you watering my hand, drip irrigation, or soaker hose.
7. Use drip irrigation or soaker hoses.
On the video you can see a really good example of drip irrigation that is both simple and effective.
8. Use timers.
That way you don't forget to turn the water off and it's a better use of your time – set it and forget it! You can get very simple with a mechanical timer or you can choose more sophisticated timers that allow you to set certain days as well as time.
9. Group plants together with similar watering needs.
You're setting up a system intended for success. Low-water requirement plants being grouped together, etc. If you put a water-loving plant like willow in the same location as a plant that prefers a more dry soil like sage, you're going to run into problems and likely will kill one or the other. So think about their watering needs when placing plants and not only the aesthetics.
10. Use wicking beds.
This saves water by watering from below. You get extremely low evaporation.
With all of these tips, it will set you on a road to success. You can minimize water waste, lowering possibility of disease, and you're not forgetting to water.
Don't forget to subscribe and click the Bell for "All" so you don't miss any videos!