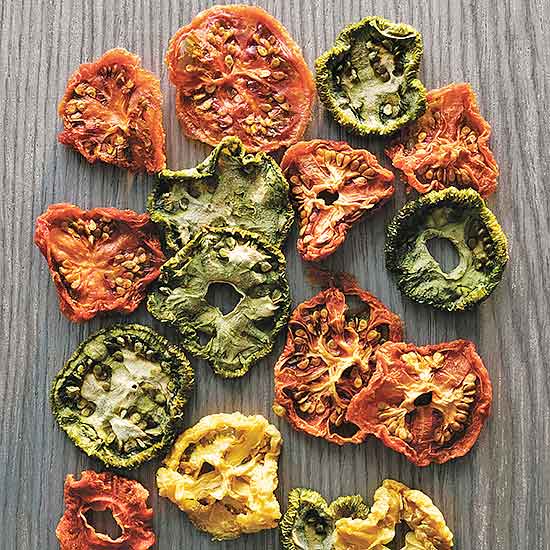 Our home freeze dryer finally arrived a couple of weeks ago but we've been so busy working on the greenhouse (no, it's not done yet!) that we haven't had time to get it set up. In the meantime we've been harvesting a ton of tomatoes, cayenne, and of course herbs.
Last weekend Kim, Linde, and I pulled in a bunch of hops strobiles and they are happily drying. The elderberries we collected are not drying, instead I decided to make a syrup and tincture so they are sitting on the counter getting more and more purple by the day.
Back to the dehydrating. I know we are an herb school, but we also care about eating good food because apart from that you simply can't get healthy. A dehydrator really proves to be valuable when looking for ways to preserve fruits and vegetables apart from freezing.
Why not freeze?
Honestly our freezers are full of meat, and I'm not complaining about that, but that means limited space for other things like fruits and vegetables. I decided to break out our second dehydrator because our Excalibur just wasn't keeping up with everything we were drying!
Benefits of dehydrating
Anything you dehydrate can be used in recipes, eaten straight up, or blended into a powder and sprinkled on yogurt, ice cream, salads, you name it.
Drying herbs is one of the most popular ways to preserve them, and as long as you don't set your dehydrator too high, it preserves the constituents in herbs and the nutrients in food very well.
This time of year I'm finishing up the collection of my calendula flowers and they have been very generous. Fortunately, we have a warm and sunny week coming up next week so I imagine they will give even more effort.
Dehydrating
saves on storage space
preserves nutrition
provides ingredients for a quick, nutritious meal or snack
What have we been drying?
Eggs – our hens are laying great right now but that does slow down in the winter.
Tomatoes
Homemade tomato sauce
Apples
Strawberries
Bananas
Cooked noodles
Mushrooms
Zucchini
Cayenne
Calendula
Hops
Chamomile flowers
Lavender
Lacto-fermented onion, garlic, cayenne, ginger mix (you have to keep this at a low temperature in order to preserve the live enzymes)
With the entrance of fall I'm seeing our kale and dandelion come back to life (thank you cooler, moister weather) so we'll be adding greens to our menu above. You can choose to keep these greens in small pieces to add to a soup/stew or blend them into a powder to sprinkle on almost anything. I'll probably do both.
I'm also going to try experimenting with cooking and dehydrating meat and oatmeal. Something I made a few years ago that was delicious and very popular in the house was yogurt bites. Again, keep the temp low so you don't kill the live culture and don't add sweetener. You can blend plain Greek yogurt with banana or other fruit to make it more tasty. Don't use regular yogurt, it takes too long to dehydrate and doesn't hold together in a nice lump very well.