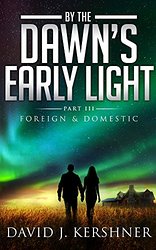 In today's podcast we talk David Kershner, who is a post apocalyptic world (PAW) author. We have an interesting discussion about the central question he poses in his books: What would it take to remove GMO's from the US food chain? And, what would it look like if we did so abruptly?
David currently works as an Analyst and lives with his wife and two children. He was born and raised in the southeast and spent much of his childhood in the small towns of northern Virginia and southern North Carolina. David's previous works include the first three installments of the Foreign and Domestic series (When Rome Stumbles, Hannibal is at the Gates, and By the Dawn's Early Light),
as well as a non-fiction cooking and entertainment book titled Just a Small Gathering. He is currently working on the fourth installment for the Foreign and Domestic series, Colder Weather.