So, we've lived on our homestead for two years now. This year we are actually producing a lot more food than last year and that means one thing – canning, and lots of it. Normally I would attempt to freeze some things instead because, let's face it, it's just easier! However, we recently butchered our two pigs and added those to the turkeys, chickens, and lamb we already had in the freezer – holy pastured meat, Batman! We have about 600 pounds of meat in our freezers. SOOOOO, canning it is!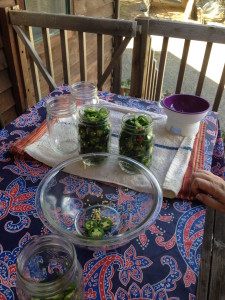 We use a lot of tomatoes and peppers hence it makes sense for us to grow a lot of them, and we did. Paste style, romas, early wonders, cherry, jalapenos, banana peppers, cayenne, and a few more I know I'm forgetting. I decided to start getting a little ahead of the game on Monday, try to can the tomatoes we've harvested that were on hand. At the same time we were cooking up 4 gallons of bone broth, simmering our soup for dinner (using the leftovers we had) and canning pickled peppers – don't get me started on the rhyme, it was in my head all afternoon. Because we had so many large pots on our stove I took 1/2 of my canning operation to the outdoor kitchen.
I left Linde in the kitchen blanching and peeling tomatoes and headed out onto the deck. Luckily we have one burner attached to our grill so I could begin heating the jars and canning water, but I still needed a second burner to get the pickling solution boiling. This is when the Silver Fire Survivor Rocket Stove came in.
I am not a fire starter. For some reason fires and me don't seem to mix. I honestly find it baffling how forest fires get going when I can't even coax a flame to remain on dry, perfectly prepared wood. Either way, it doesn't seem to matter with the Rocket Stove. I am able to get a fire going every time, hallelujah! With a little scrap wood and one page of a catalog I had it burning and the pickling juice heating through.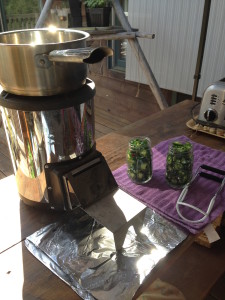 I filled the pepper jars with the solution and processed them for the allotted time. After letting the water cool we processed the tomatoes.
We finished our canning for the day – a total of two jars of pickled jalapenos and one jar of banana peppers along with 5 jars of tomatoes. I know, it's just the tip of the iceberg, but it's a start. In the coming weeks we will be tackling pasta sauce and salsa which will eventually pay off as an easy go-to in the winter months during my much-needed hibernation. After tomatoes are done I plan on prepping around 20 jars of cowboy beans and Mexican style beans utilizing our fresh bacon and peppers. I'm hoping to be able to use our outdoor kitchen even as it cools down outside. It's a cozy place and with the burners on it really maintains a pleasant temperature.
---
Here's the Pickled Jalapeno recipe I used from Canning Across America (I removed one ingredient)
PICKLED JALAPENO PEPPERS
Ingredients:
1/2 cup water
1 1/2 cups distilled white vinegar
1 teaspoon kosher salt
1/4 tsp ground cumin (I decided not to add this to my brine)
4 cloves garlic, peeled and left whole
8-10 large or 20 small jalapeno peppers (it's hard to be exact here, but it's about a pound) rinsed, and sliced into thin rings
Instructions:
In a nonreactive saucepan (meaning stainless steel or any other modern cookware- NOT 100% aluminum), whisk together the vinegar, water, salt and cumin.  Bring to a boil over high heat, stirring until the salt dissolves.  In the meantime sterilize the jars and lids according the USDA Canning Guidelines.
Pack each pint jar tightly with sliced pepper rings and one whole garlic clove each.  Leave enough room at the top so the lid rests easily on the mouth of the jar.
Using a canning funnel, ladle the hot brine to cover the pepper rings leaving about 1/4 inch at the top of each jar.  Insert a clean chopstick to free any possible air bubbles and check the mouth of the jar to make sure it's clean and then screw on the lids. Process in a hot water bath for 10-15 minutes and then pull from the water with rubberized tongs.  I cover my counter tops with a clean dish towel so any water left on the jar is absorbed into the towel.  Each jar will ping as it cools.  That means it's sealed and safe to store on your shelf.
Once all the jars reach room temperature, store in a dark cupboard for about three weeks to let flavors develop before opening. The peppers will turn a dull shade of green but at least they won't be slimy.  Opened jars can be stored in the fridge for up to 6 months as long as you use clean utensils to take the pepper rings out each time. Sealed, these pickles will keep for about one year.  Enjoy!
Makes 2 pints
---
How about you? Are you ready to tackle your harvest? Have you considered using alternative resources like the Rocket Stove or Sun Oven to extend your kitchen capabilities? Leave a comment and share what you have going on at your homestead/home.