Roasted Dandelion Root Brownies
I've always loved brownies with espresso or coffee in them, making them more of a mocha-brownie. Today I decided to try roasted dandelion root instead of coffee. I don't know if this makes them any healthier (check out my earlier blog post on the benefits of dandelion), I like to think it does, but when I'm making brownies I don't know that health is the most important thing on my mind. LOL.  I love brownies that finish with a lightly crisp outside and soft inside, I also love nuts so I added a lot to this recipe. If you don't like them, just leave them out or replace them with something else – toasted coconut, mini chocolate chips, maybe even roasted pumpkin seeds.
If you don't have roasted dandelion root in your pantry (and you won't be able to harvest any roots until later this year) you can find them here. I buy the one pound bag because I drink dandelion root coffee everyday, it's a wonderful replacement or augment to a regular cup of coffee. I can attest that a creamy cup of roasted dandelion root coffee makes a tasty companion to these brownies.
Okay, so on to the recipe! I took a lot of photos along the way which is so unusual for me (I'm really working on getting better at this). One last suggestion: use high quality cocoa powder because that will make a big difference.
This recipe was adapted from Katherine Hepburn's brownie recipe I found in a magazine years ago. It is, hands down, the best brownie recipe we've tasted. 
Preheat the oven to 325
Start out by grinding the roasted dandelion root. I used a coffee grinder but feel free to use a blender or you can go old school and use a mortal and pestle.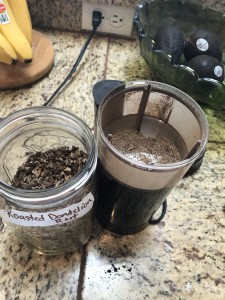 Slowly heat the butter and cocoa powder over a low heat until it's melted and fully integrated. Set aside to cool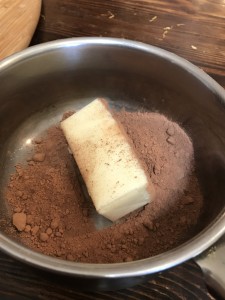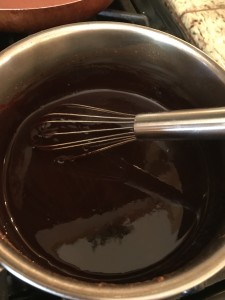 In the meantime, mix together the flour, salt, sugar, nuts, and dandelion root.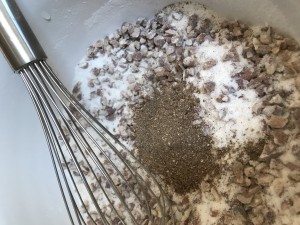 Pour the cooled butter/chocolate mixture into a large bowl (it should just be warm at this stage) and beat in the eggs one at a time. Beat very well at this point. Add the vanilla.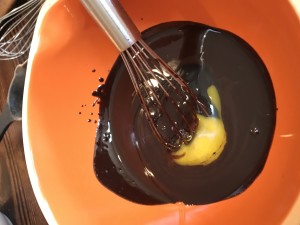 Dump the flour mixture into the chocolate mixture and combine until you don't see any dry ingredients.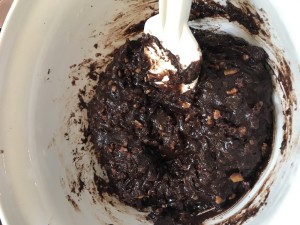 Pour into a prepared pan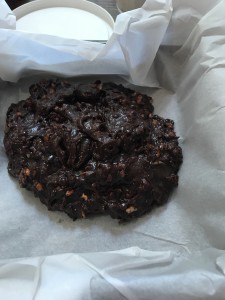 and spread until evenly distributed (I like using parchment because it makes clean up easier and I can pull it out of the hot pan to stop the cooking a little sooner if I want).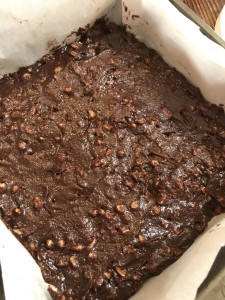 Bake for 30-35 min. Check around the 30 min mark to see if a toothpick comes out clean, you don't want to overbake.
Remove from oven and allow to cool before cutting. You can make the pieces as big or small as you want. I opted for 2″x 2″ pieces.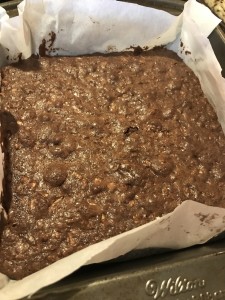 Roasted Dandelion Root Brownies - www.thepreparedhomestead.org
Ingredients
½ cup cocoa
½ cup butter (1 stick)
2 eggs
1 tsp vanilla
1 cup sugar
¼ cup flour
1 cup chopped pecans
2- 4 Tbsp Finely ground roasted dandelion root
Pinch of salt (I used himalayan and wakame mixture)
Instructions
Heat oven to 325 degrees
Melt butter in saucepan with cocoa and stir until smooth
Remove from heat and allow to cool for a few minutes, then transfer to a large bowl.
Whisk in eggs, one at a time. Stir in vanilla.
In a separate bowl, combine sugar, flour, nuts, dandelion root, and salt.
Add to the cocoa-butter mixture. Stir until just combined.
Pour into a greased or parchment-lined 8 x 8-inch-square pan and spread evenly
Bake 30 to 35 minutes. Try not to overbake, the brownies will continue cooking when you take them out. I used parchment paper so I could take them out of the pan and cool them on the rack.
Once cool (or if you're like me, once you can eat them without getting burned) Cut into bars.
http://www.thepreparedhomestead.org/2018/03/15/roasted-dandelion-root-brownies/